219.5
Million inhabitants
92 376 800 ha
Country's area
800 000 T
Average annual domestic palm oil deficit
At the time of its independence in 1960, Nigeria had an agrarian economy. The discovery and production of crude oil then moved the economy towards industry and generated significant profits. Unfortunately, because of this supply of foreign currency, the Nigerian government did not implement any support policies to further develop its agricultural sector.
In the mid-1970s, the Nigerian government could no longer ignore the recurring deficit in vegetable oil and decided to establish plantations on a large scale. The program was launched with funding from the World Bank and aimed at promoting sustainable development. Most of the created industrial plantations were sold and privatized by the government in the 1990s.
Palm oil is very popular among Nigerians. Palm oil is the most commonly used vegetable oil in Nigerian cooking.
Although 90% of the country's palm oil comes from smallholdings, Nigeria is Africa's largest palm oil producer, ahead of Côte d'Ivoire. It is also the 5th largest producer in the world, with an annual production of 1.35 million tons, although the country has the potential to annually produce 2 million tons.
Despite its important production, Nigeria does not produce enough palm oil to meet domestic demand. In fact, domestic demand amounts to roughly 1.8 million tons of vegetable oil per year. Today, the country is still heavily dependent on imports and crude oil revenues, although the local market is very extensive and permanently growing.
After 5 years of work, the country is on its way to RSPO. In July 2017, the RSPO Board of Governors approved Nigeria's national interpretation (NGIN). NGIN 2017, as the document is called, is based on the 2013 RSPO Principles and Criteria.
In Nigeria, the agro-industry produces the majority of rubber. The entire production is then exported.
As an important catalyst for development in remote areas, rubber cultivation enables the production of pure green energy: natural rubber is a substitute for synthetic rubber (a petroleum distillation product) and serves as a significant carbon sink.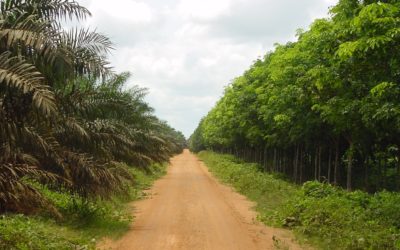 The Managing Director, Okomu Oil Palm Company, Dr Graham Hefer, says that the organisation's commitment to Health, Safety and Environment has rubbed off positively on staff and visitors to the company. He said this at an event to commemorate the company's HSE Week...