10 066
Direct and indirect employees
Active in Indonesia since the beginning of the last century, the Socfin Group is an example of plantation development in the archipelago.
Socfin SA (Société Financière des Caoutchoucs) was founded in Indonesia in 1909. In 1911, the first palm trees were planted at Sungai Liput in the province of Aceh: Indonesia's first palm grove was born. The first rubber trees were planted in Tanah Besih in 1923.
In 1965, Indonesia's large plantations were nationalized. Later, a joint venture between Plantation Nord Sumatera (PNS) (60%) and the Indonesian government (40%) gave birth to Socfindo (PT Socfin Indonesia) in 1968. Thanks to this partnership, which is an example of development in the sector, the company ranked among Indonesia's top 3 producers in 1984. In 2001, the government sold a majority stake to PNS, retaining 10%.
Socfindo is a model of agro-industrial business management in the country, particularly in the North Sumatra and Aceh regions. All its oil palm plantations have been ISPO-certified since 2016 and RSPO-IP-certified since 2020.
The plantations have made a major contribution to improving the living standards of the surrounding populations, thanks in particular to:
guaranteed occupational health care for all employees;
sharing skills;
creating additional income through the growth of local businesses;
providing various services to the surrounding communities.
Even today, Socfindo plays an active role in the country's development by enhancing the knowledge and skills of the various players in its Indonesian industry. Among other things, it takes part in conferences, organizes training workshops, publishes technical guides and provides a consultancy service.
To improve living conditions, it is keen to promote education by offering scholarships to the children of employees and local communities, and to foster their well-being by implementing infrastructure development programs in local villages.
In addition, with a view to continuous improvement, Socfindo takes a proactive approach to research and innovation. For example, in 2012, Socfindo set up a composting unit to process organic waste from the Bangun Bandar oil mill (fiber, ash, effluent and stalks), whereas there are only 2 such units in the world. Although very little scientific information exists in this field, this is a real innovation and a pioneering move to recycle all elements of the production cycle. What's more, for the areas concerned, this compost can partially or totally replace the use of inorganic fertilizers.
In 2019, Socfindo launched its flagship sustainability initiative, called "Socfindo Conservation".
Its main project is a medicinal garden, a concept known in Indonesia as Toga (Tanaman Obat Keluarga-Family Medicinal Garden). It is a place where the diversity of plants enables the development of herbal remedies, in a tradition that is part of Indonesia's cultural heritage. The project is managed by a women's team, a collaboration between Socfindo employees and their extended families. The project has evolved as the team's enthusiasm has grown, not only to gather and compile knowledge into a real database, but also to create the first ex-situ collection of its kind in North Sumatra.
Key figures for this medicinal garden:
over 1 500 species;
over 800 traditional herbal remedies;
290 educational visits;
Nearly 70 workshops;
Over 10 300 visits.
Socfindo supports and embraces the United Nations' Sustainable Development Goals (SDGs), and its project focuses on achieving measurable impact through biodiversity conservation, the preservation of traditional knowledge and the empowerment of people and communities.
For further information: https://www.socfindoconservation.co.id/
Palm seeds
One of the world's leading seed companies, with over 600 million seeds distributed worldwide, Socfindo was the first and only producer to offer a Ganoderma-tolerant seed (a devastating fungus in Asia). Today, 3 types of seed are marketed, offering customers the choice of Ganoderma-resistant seed or seed with increased productivity.
See more information on the Socfindo website.
Laboratory
Socfindo's laboratories are very active in palm research, in collaboration with CIRAD (France), with the aim of developing an "elite" clone resistant to Ganoderma.
Socfindo is also active in rubber research, in collaboration with Ghent University (Belgium), to eliminate the need for grafting and increase latex potential, a first in Indonesia.
The member of RSPO Secretariat and the Impact and Monitoring, Learning and Evaluation (IMEL) team visited Socfindo. The purpose of the visit is to understand how existing data needed in the metrics template are being collected on the ground and to understand the...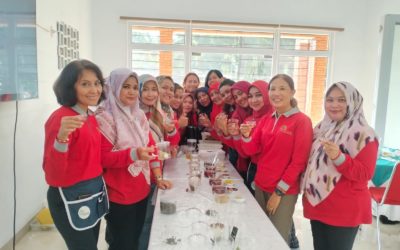 The Socfindo Conservation team held a workshop to improve their knowledge and skills in tea blending techniques for various herbal tea.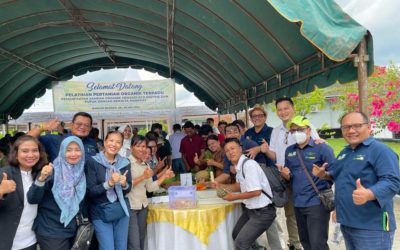 In collaboration with the Budaya Hijau Foundation, Socfindo Conservation held the Integrated Organic Agriculture workshop in Bangun Bandar. The participants were delegated from Farmers Group Association (GAPOKTAN), government and Socfindo's staff. The Serdang Bedagai...