850
Direct and indirect employees
In Liberia, through responsible management of its operations, the Salala Rubber Corporation plantation supports local and rural development in the region through creation of various community projects, while enhancing the livelihoods and working conditions of employees, their families and the communities
The Salala Rubber Corporation (SRC) plantation was established in 1959 and the Weala Rubber Company (WRC) factory was operational in 1962. However, the civil wars of the 1990s and early 2000s were the demise of the rubber industry. SRC was looted and the WRC factory was destroyed.
In 2007, Agrifinal merged Weala's factory and Salala's plantation. The Socfin Group then acquired the Salala Rubber Corporation (SRC) and invested to optimize the plantation and improve social infrastructure (houses, schools, health centers, etc.).
SRC sources its rubber from its own plantation, but also from the surrounding smallholders. Unfortunately, since 2011 the raw material provided by the smallholders and SRC has not been sufficient to keep Weala's production unit operational. The factory has therefore been shut down and all output is sent to LAC's factory at 150 km southeast of Salala. Ever since, the plantations have been extended to arrive at 4 400 hectares of rubber trees.
As Liberia's exports are based almost entirely on rubber, many growers are trying to restore their plantations in order to boost the sector.
SRC's plantation has been ISO 14001 certified since 2015.
And since 2008, SRC has also been approved as a partner by the World Bank for its compliance with international environmental standards.
True to its vision of sustainable development, SRC has participated in various "public-private" partnerships, beneficial to all partners. Indeed, the partnerships have enabled a synergy of competences, which was hard to imagine before.
The IFC, a subsidiary of the World Bank, has supported SRC by co-financing the plantation's social investments in the domains of health (HIV/AIDS) and education. Today, its modern medical infrastructure and equipment – a hospital, ambulances, etc. – and its medical team are able to serve the entire population of the region, namely about 10 000 people.
Convinced that regional development starts with the education of the youth, SRC has constructed educational infrastructure and facilities: schools, libraries, school buses, classrooms, recreational areas, etc.
Finally, to encourage a dynamic within the company, a local radio station has been created. Broadcast throughout the plantation, the station offers animations, entertainment, interactive programs, etc.
Long-term community development in the area where SRC operates starts with the creation of a local economic fabric.
The smallholder partnership – together with job opportunities and the guarantee of a permanent income – facilitates the sustainable development of local communities: training in rubber production techniques, technical and logistic support for production transport, maintenance of the roads that are crucial for regional economic activity, etc.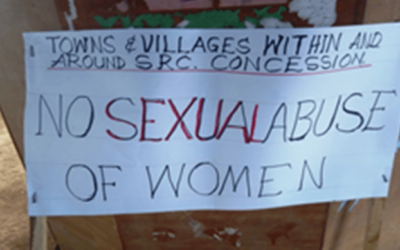 In the wake of an alleged sexual harassment as reported by Green Advocates International (GAI) against the Salala Rubber Corporation (SRC) management, several community residents, including the chiefs, and employees of the corporation have vehemently denied the claim,...