Specialized in agricultural and tropical commodity trading, our subsidiary Sogescol FR is responsible for the marketing and export of the Socfin Group's commodities, mainly from West Africa and Southeast Asia to different parts of the world.
The marketing of the products from the Group plantations has been entrusted to Sogescol FR since 1930. Through its knowledge of the natural rubber and palm oil markets, our subsidiary ensures that the Socfin Group exports its commodities in optimal management and profitability conditions.
Rubber
Recognized for its expertise, Sogescol FR is the historic exporter of African natural rubber. Besides the production from the Socfin Group plantations and factories, Sogescol FR also markets rubber from third-party producers.
All rubber marketed by Sogescol FR is certified by various tyre-manufacturers, as well as by other end users processing natural rubber, whether for the automotive industry or for other applications (adhesive industry, etc.).
Palm oil
Did you know that most of the palm oil we produce is sold on the local market for local consumption?
Mainly used in the agri-food and cosmetic sectors, palm oil is the most used vegetable oil worldwide. Today, various African countries produce less than 50% of their domestic needs. To address this shortage, the Socfin Group's palm oil production is primarily sold on the local market.
Moreover, Sogescol FR is the commercial agent for the marketing of the Socfin Group products on the local market, offering assistance and advice to production structures.
By emphasizing the quality of its products and services, to both suppliers and local and international clients, Sogescol FR establishes sustainable commercial relations and is today a reference in commodity trading.
Rubber prices – 5 years
(SGX – TRS20 1st position FOB Singapore)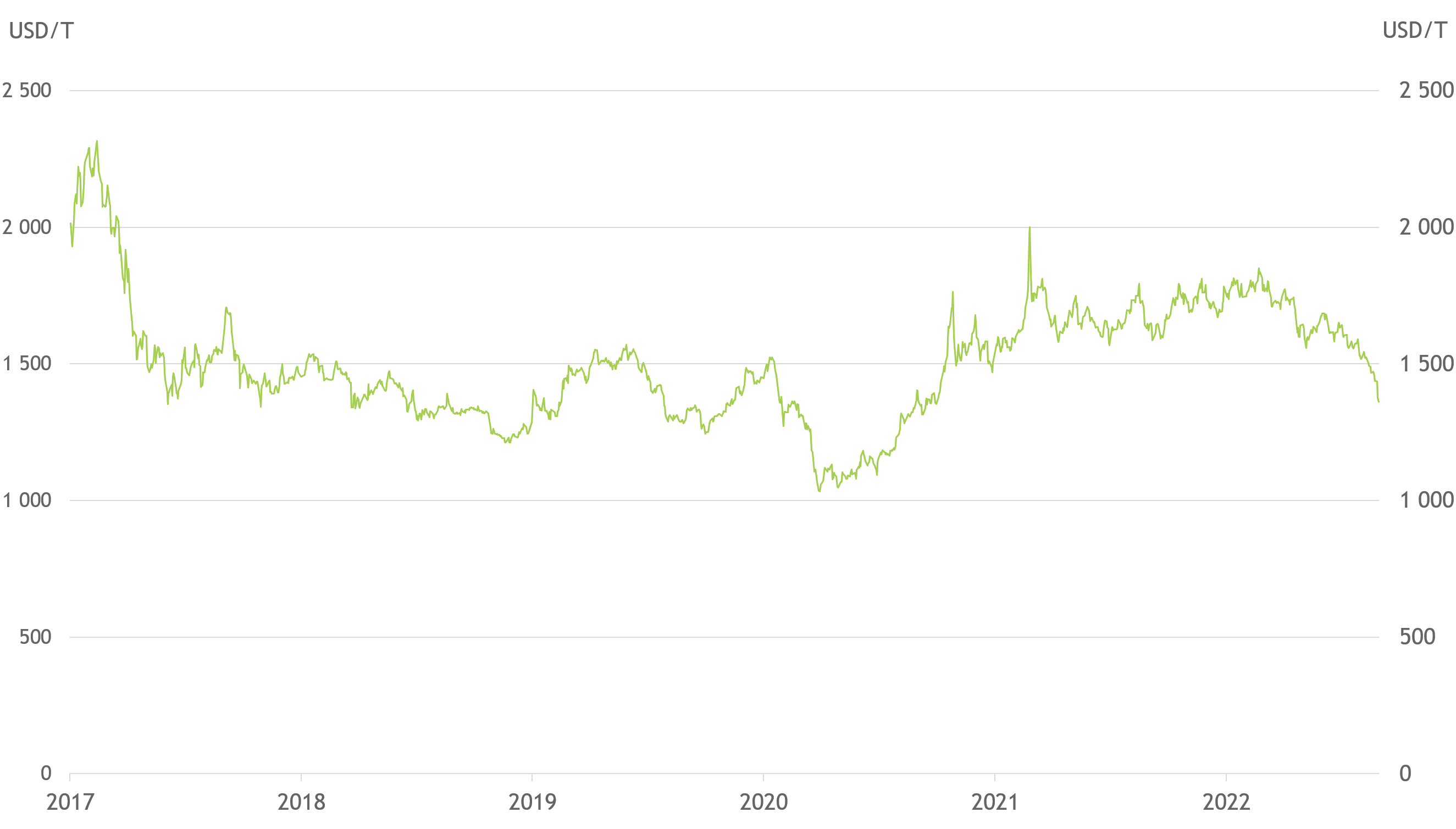 Crude palm oil prices – 5 years
(CIF ROTTERDAM)