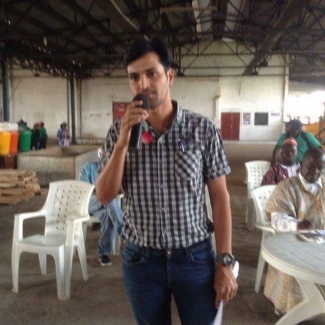 The Smart Media Group publisher of an online news magazine "Smart News Liberia" is expected to honor Mr. Shanid Aluppy, General Manager of the Salala Rubber Corporation (SRC) in Weala, Margibi County as General Manager of the year and the and SRC as Rubber Plantation Company of the Year 2018" respectively.
The above was disclosed in an interview with reporters earlier Tuesday morning January 29, 2019, at the Media Group offices in Central in Monrovia.
The Group Chief Executive Officer Mr. Socrates Saywon said the decision to honor Mr. Aluppy and the SRC followed a careful observation and analysis of him and the company contributions amid challenges to the citizen of Margibi County and Liberia.
According to him, their tremendous efforts in implementing their corporate social responsibilities especially to the employees and the citizens who are living on the plantation has made residents of the area have trust and believed in them.
He said Smart Media Group two days surveys in Weala gave them an enormous deduction that you the company is not lacking behind intense of developing what they have purposed to do for the people of Weala in Margibi County.
Speaking further Mr. Saywon indicated that their survey brought them to a conclusion that other rubber companies stationed in Margibi Firestone Liberia, Liberia Agriculture Company (LAC), and other rubber companies have yet to meet up with their social corporate responsibilities as compared to the SRC.
"Through their efforts, the company was able to construct wells, latrines, connect feeder roads in the various communities which are now impacting the lives of the citizens," he said.
He noted that the company was able to give medical assistance to Yebbah community dwellers and also building the human capacity of employees and citizens residing on the plantation, something he stressed showed the Manager and the company that they have delivered or live up to their social corporate responsibilities than any other rubber plantation companies in the county.
He emphasized that on that basis Mr. Aluppy and the SRC were selected through the SMG vetting committee to receive certificates as General Manager of the year and the and SRC as Rubber Plantation Company of the Yea2018" respectively.
Mr. Saywon concluded that the honor will be given to them for their dedicated services to the employees and citizens of Margibi County most especially to the communities in Weala at a ceremony to be held on Saturday, February 2, 2019, in Weala, Margibi County at 12:00 Moon.
Smart news